//learn
Code

For

Journalism

With

Me
/* start description */
Learn Code for Journalism with Me is a pilot project aimed at Web journos of all levels and dev newbies that have an interest in learning code, but do not know where to start and may not have a community to support them.
This experimental project merges two incredible platforms (Codecademy's Code Year and Google+ Hangouts) and taps in the community aspect of Social Media and co-learning (#wjchat) all in the name of sharing knowledge and advancing journalism.
=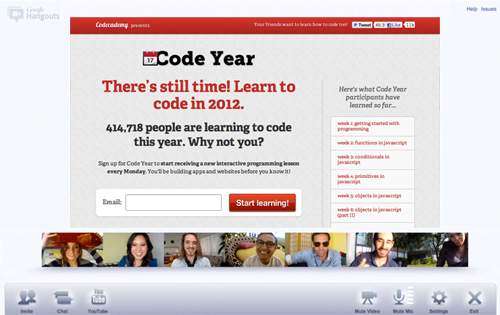 This is a group DIY Project, where we learn together, teach each other and support our growth.
And this project is free. This is a pilot project, so I reserve the right to tweak and change it in order to grow, scale and maintain it. Maybe a virutal tip jar down the road? Maybe donations for support later? Who knows. This project may flop. It may pay for my kid's college education. I'm guessing it will be somewhere in the middle.
My goal here is for all of us to grow and improve journalism. I'm taking advantage of (or hijacking) free tools/platforms in the name of journalism and community knowledge. Look, this idea can -- and will probably -- be copied (or stolen), if you're interested in launching your own similar training please be in touch and let's explore how we can work together.
I do ask for a few small things:
Thanks again for taking the time to read about this project. I hope you are as excited as I am… if so, please complete the form below. There is more to come!
Robert
@webjournalist
robert [at] journalismwith.me
Hashtag: #lcfjwm
/* end description */
//Interested?
Sign up
/* start form */
Sorry... sign ups are now closed. Thanks for your interest!
/* end form */
//
Thank you
Thanks for your interest and for taking the time. Feel free to contact me if you have any questions: robert [at] journalismwith.me